English
English sits at the heart of our whole school curriculum and we believe that it is the key to unlocking the potential of all of our pupils. Our English curriculum is carefully planned in order to enable our pupils to become skilled, expressive and confident communicators throughout their whole lives.
The National Curriculum for English forms the foundations for all that we do. The main aims of the National Curriculum are to:
* Promote high standards of language and literacy by equipping pupils with a strong command of the spoken and written word, and
* Develop the pupils' love of literature through reading widely and for pleasure.
We fulfil these aims by teaching the main elements of reading, writing, speaking and listening to our pupils both in English lessons and as a thread throughout the curriculum. We use the best quality children's literature to plan exciting reading and writing experiences as well as ensuring that our pupils have the opportunity to read, write and talk about experiences from their Learning Adventures both in and out of school.
Phonics
What is Phonics?
Phonics is a way of teaching children how to read and write. It helps children hear, identify and use different sounds that distinguish one word from another in the English language.

Written language can be compared to a code, so knowing the sounds of individual letters and how those letters sound when they're combined will help children decode words as they read.
Understanding phonics will also help children know which letters to use when they are writing words.
Phonics involves matching the sounds of spoken English with individual letters or groups of letters. For example, the sound k can be spelled as c, k, ck or ch.
Teaching children to blend the sounds of letters together helps them decode unfamiliar or unknown words by sounding them out.
For example, when a child is taught the sounds for the letters t, p, a and s, they can start to build up the words: "tap", "taps", "pat", "pats" and "sat".
Phonics is taught systematically throughout EYFS and Key Stage 1.
Children in Year 1 will take a statutory government 'Phonic Check' which will help to asses whether they can decode real, and alien words accurately.
At Mount Pleasant we teach Phonics using Little Wandle
Link to Little Wandle resources for parents
Useful Phonics websites and links:
Spelling
National Curriculum Spelling Appendix
Reading
Children who read well, do well.
Reading is a skill taught and applied in all areas of our curriculum. A wide range of interesting, relevant and engaging texts are used in all year groups.
At the heart of all of our Learning Adventures sits a key text, or a selection of classic and contemporary children' literature.
The Reading Scheme we use is Oxford Reading Tree, supplemented by Phonics Bug and a range of excellent quality books for our Elite Readers.
Our passion for reading can be seen in the many opportunities we give to our pupils to be immersed in reading. These include:
Daily Book Talk sessions-when pupils collaborate to extend their use of high level vocabulary and sentence construction by discussing a text, film clip or image in depth and then feeding back to the whole class.
Daily reading for pleasure-when staff read to pupils, modelling excellent reading behaviours and the joys of reading.
Ten minute reads-when a short piece of text is read and then discussed with a focus upon modelling how to explain opinions about how texts have made one feel or about how they have been written. This helps pupils to "read as a reader" or "read as a writer".
We are passionate about instilling a love for reading in our pupils and a clear understanding of what an important skill it is to master. We use a variety of techniques and strategies to develop and grow our reading community:
THE READING RAINBOW
Used in Book Talk to focus the children to zoom deeply into a reading lens to be able to discuss reading at a more challenging level.
VIPERS
The key skills the children are taught to use and identify in reading
THE BARRETT TAXONOMY
Used when questioning in reading lesson, reading conferences and when 1:1 reading.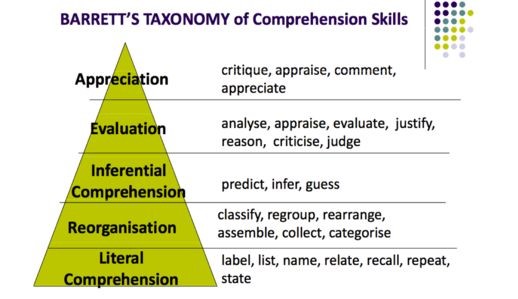 English Curriculum Overviews