Nursery
At Mount Pleasant we aim to give the children the very best possible start to their education. We do so by providing a carefully structured curriculum in a well-planned and well-organised environment.
The children learn actively through rich, stimulating and purposeful experiences. We value parents as partners in their children's learning and work closely with them to ensure that our children make the best possible progress and establish solid foundations on which they can build.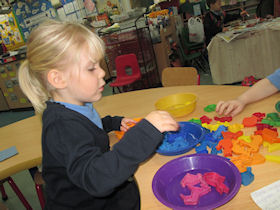 Times of Nursery Sessions:
Mornings - 8.30 a.m. - 11.30 a.m. Afternoons - 12.15 p.m. - 3.15 p.m.
Places are allocated in date of birth order (please see Nursery Admissions Policy). Registering your child for Mount Pleasant Nursery does not guarantee a place in school (please see Dudley MBC Primary School Admissions Policy).