Enrichment
Mount Pleasant prides itself on delivering a broad and balanced curriculum that is greatly enriched through a wide variety of experiences. Many enrichment activities take place in school and some away from it. Some activities take place before and after school and some are residential visits.
All activities are designed to ensure that learning is real, vibrant, motivational and exciting.
Many of the activities are provided free of charge, for example:
A regular swimming programme
Visits to Saltwells Nature Reserve/Forest School
Any visits that include travel using the school minibus with no entrance fee
Open the tabs below to find out about some of the exciting things happening at Mount Pleasant, which bring our learning to life!
Dick Wittington Pantomime November 2018
The whole school were visited by a theatre company who gave a fabulous performance of a traditional tale for us all to enjoy!
Arts Week July 2018
2nd - 6th July 2018
Mount Pleasant celebrated Arts Week.
During the week each year group had a chance to showcase their work related to music, dance, poetry and drama to their parents in a short assembly. The children also showcased their gifts and skills in the TalentShow.
The week culminated in the Arts Exhibition where every child had a piece of artwork exhibited and the children and parents were invited to look around at all the wonderful artwork produced throughout the year. Some artwork was inspired by the book 'The Lost Words' and children created different pieces based on one of the animals or poems featured in the text. A fabulous way of bringing English and Art together.
Mount Pleasant really has got talent!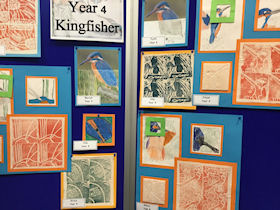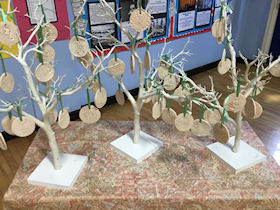 In Art club Years 2 and 3 created observational drawings of the playground tree. They were able to have their art work framed and take it home.
Year 6 were inspired by World War artists and created a variety of pieces using different techniques. They especially enjoyed working on the 'Otter' from the book 'The Lost Words' to produce a whole class wall hanging.
Year 5 focused on perspective and surrealism in art and produced some brilliant pieces using a variety of media. They were truly inspired by the 'Raven' from the book 'The Lost Words' and created some beautiful whole class pieces.
Year 4 explored Viking art and the work produced by Hokusai. They created a variety of pieces using different techniques and viewpoints. Year 4 were inspired by the 'Kingfisher' from the book 'The Lost Words' and made some stunning pieces!
Year 3 experimented with a variety of techniques throughout the year produced work inspired by different cultures and produced pieces based on the 'Heron' from 'The Lost Words'.
Year 2 experimented with a variety of techniques throughout the year and produced work inspired by Kandinsky and Claude Joseph Vernet. Year 2 also produced some terrific pieces based on 'Heather' from the book 'The Lost Words'.
Year 1 created some fantastic self-portraits inspired by other artists' work and have completed some beautiful pieces based on the 'Oak Leaf' from the book 'The Lost Words'.
Black Country Games June 2018
29th June 2018
On Friday 29th June, a group of children from Year 3 and 4 were selected to represent Mount Pleasant and Dudley Schools in the Change 4 Life event at the Black Country Games.
They participated in a range of different activities, including boxing, golf, parachute games and archery. The children were a credit to the school.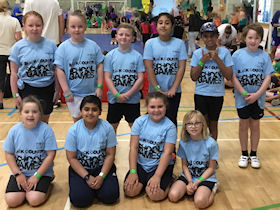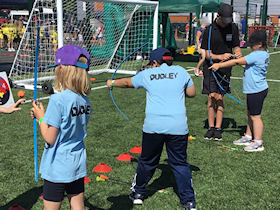 Year 1 Stranger Danger June 2018
14th June 2018
On Tuesday 14th June Year 1 had important visitors, the new community police officers. They spoke to them about the importance of stranger danger.
The children were very excited as they had the opportunity to sit in the police car and try on parts of the uniform.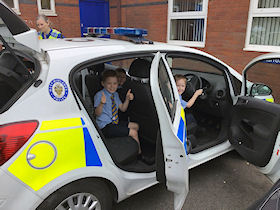 Reception visit the zoo June 2018
12th June 2018
On Tuesday 12th June Reception Class had a fantastic time at Dudley Zoo.
As quoted by Zoe, "The best day EVER!"
They saw lots of amazing animals of all different shapes and sizes and found out about where they come from, what they eat and lots of other fascinating facts. Their favourite animals were the tigers, giraffes, and the meerkats.
Year 3 Visit to Birmingham Museum June 2018
On Thursday 28th June Year 3 visited Birmingham Museum and Art Gallery to enhance their learning about the Ancient Egyptians.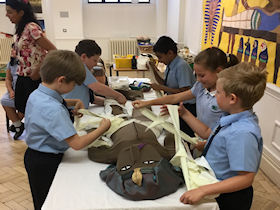 Whilst there they took part in a variety of activities. They attended a Mummification Workshop and learned how the bodies of the Pharaohs were mummified to prepare them for the afterlife.
They also looked around the Ancient Egypt Gallery to view ancient artefacts. Finally, they attended an Ancient Egyptian Art Workshop, where they looked at some artwork and were then able to have a go themselves at painting on papyrus with inks.
The children had an enjoyable, informative day and their behaviour was impeccable.